The Gothic style, with its origins steeped in medieval architecture and Victorian flair, has long been a source of fascination and inspiration in the world of interior design. Known for its dramatic undertones and rich historical roots, the gothic aesthetic combines an old-world charm with a touch of modern sophistication. As the kitchen becomes a focal point for creativity and style, a gothic theme offers an opportunity to make a bold statement that is both timeless and elegant.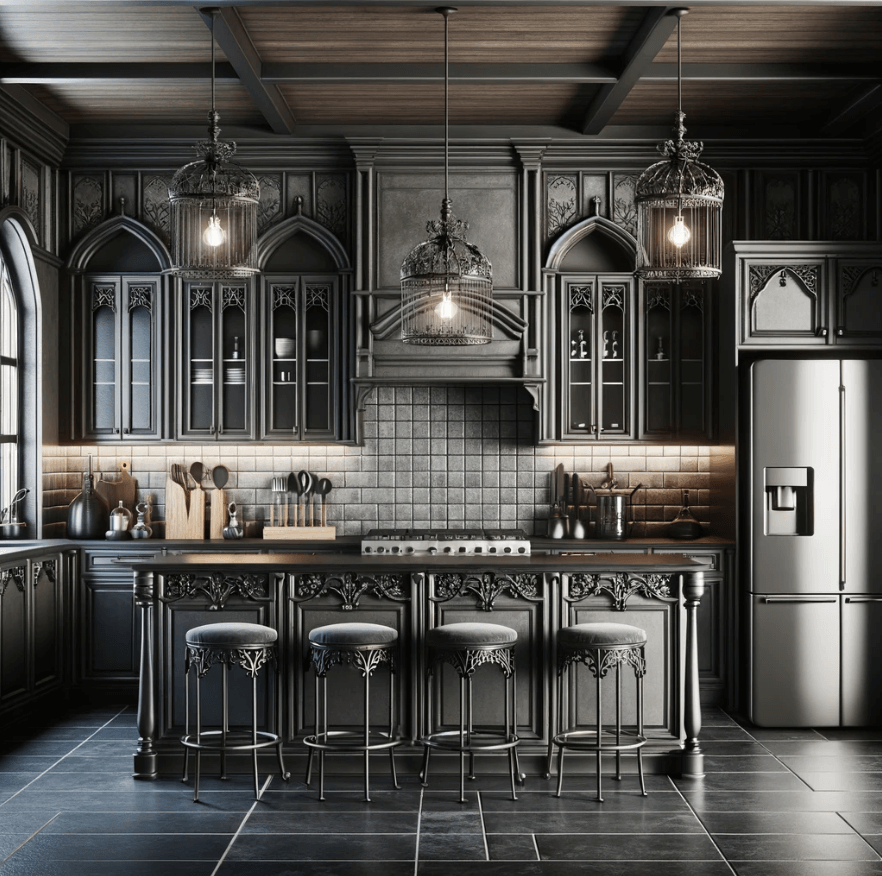 The Roots of Gothic Style
The Gothic style takes us back hundreds of years to Europe, where it started in the Middle Ages. It was first seen in big, tall churches with pointed windows and lots of detailed stone work. This style was all about making things that were not just big and strong but also had a lot of fancy details to show off craftsmanship. Over time, people started using this style in their homes, too. They liked how it made their houses look like castles with a touch of mystery and grandeur. Today, when we bring gothic style into our kitchens, we're bringing a piece of history into our homes. It's like cooking and eating in a place that's full of old stories and charm.
The Foundations of a Gothic Kitchen Design
Color Schemes: The gothic palette is deep and intense, featuring rich blacks, regal purples, and bold reds, softened by the contrasting use of creams or grays to bring light and dimension. The key is to create a balance that feels inviting rather than overwhelming, using color to highlight architectural details or to frame specific areas of the kitchen.
Architectural Elements: Gothic design is synonymous with architectural grandeur. Incorporating pointed arches, intricate trims, and cabinetry with gothic arch motifs can instantly imbue your kitchen with a sense of the gothic. Materials like dark-stained wood and stone are staples in Gothic architecture and can be integrated into countertops, islands, and flooring for a cohesive look.
Lighting: No gothic space is complete without the play of light and shadow. Chandeliers with wrought iron or blackened steel, wall sconces with flickering LED candles, and pendant lights encased in gothic lanterns set the stage for a mysterious yet welcoming ambiance.
Furniture and Fixtures
Cabinetry and Islands: Opt for cabinets with gothic paneling and dark finishes. An island with carved legs and a stone top can serve as a majestic centerpiece.
Countertops and Hardware: Granite, marble, or even concrete countertops can complement the dark cabinetry, while hardware in aged brass or wrought iron finishes adds authenticity to the gothic charm.
Vintage Furniture: A well-placed antique sideboard or a set of vintage high-back chairs can elevate the gothic theme, offering both function and a nod to the past.

Modern Gothic: Blending Old with New
When it comes to creating a Gothic kitchen, the secret lies in marrying the mystique of the past with the convenience of the present. The Gothic style, with its rich colors, intricate patterns, and luxurious textures, can coexist with contemporary comforts if done thoughtfully. For instance, modern appliances can be fitted with custom paneling that echoes Gothic architectural details, allowing them to blend into the overall design. For those looking to navigate this blend of eras, HomeDesigns AI offers a platform where you can experiment with design elements, ensuring that every modern touch you add still captures the essence of Gothic drama and elegance.
A gothic kitchen is a testament to the enduring appeal of a design that is as much about atmosphere as it is about aesthetics. By embracing the dark elegance of gothic style, you can create a kitchen that is rich in character and steeped in history, offering a daily experience of grandeur and romance. Whether through a full renovation or thoughtful touches, the Gothic kitchen is a celebration of personal taste and the art of making every meal an occasion.