Steampunk decor, a fusion of Victorian elegance and industrial innovation, offers a unique and imaginative approach to interior design. This style, characterized by its blend of historical charm and futuristic elements, creates an ambiance that is both nostalgic and forward-thinking. At its core, steampunk decor marries the ornate and detailed aesthetic of the Victorian era with the raw, mechanical aspects of the Industrial Revolution.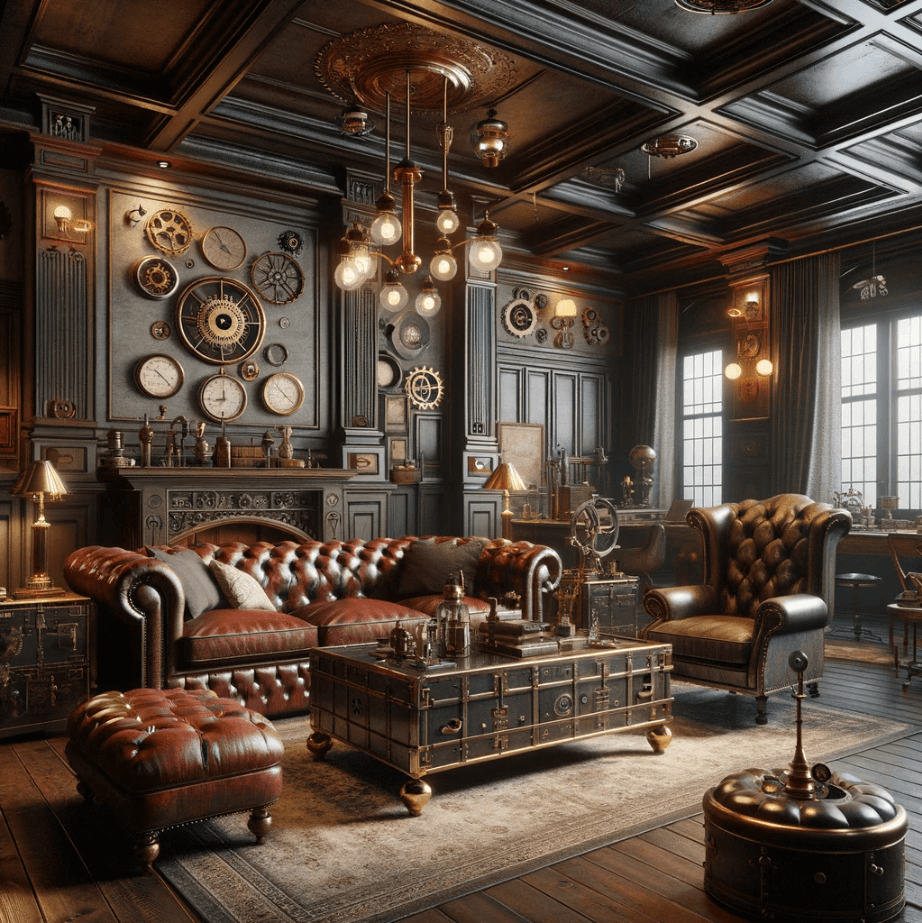 Incorporating steampunk decor into your home involves a careful balance of these contrasting elements. In this article, we will talk about how can use HomeDesigns AI to transform your space into a steampunk-inspired haven. This guide will walk you through the process of using our tool to design your room in a steampunk style:
Guide to Using HomeDesigns AI for Steampunk Decor
Whether you're starting with a blank canvas or looking to revamp an existing space, HomeDesigns AI offers a suite of features that enable you to customize every aspect of your room. From editing furniture to using different styles, and even adding unique steampunk elements, our tool provides an intuitive and user-friendly interface for all your design needs.
Redesigning an Already Furnished Room in a Steampunk Style
In case you want to fully redesign your room in a steampunk style, HomeDesigns AI offers the perfect starting point with its 'Beautiful or Creative Redesign' feature. This tool allows for a complete room makeover. Simply upload a photo of your room, choose the steampunk style, and let the AI work its magic.

For more detailed customization, the Precision+ feature paired with AI Prompt is your go-to tool. This allows you to select specific areas or items in your room that you wish to modify. Use the brush to highlight these areas, then describe your steampunk design preferences using the AI Prompt. Whether it involves tweaking existing furniture or adding new pieces, this feature offers the precision and control needed for a tailored steampunk transformation.

If there are items in your room that clash with the steampunk aesthetic, the Furniture Removal feature is incredibly useful. Select the pieces you want to remove, and the AI will visualize the space without them. This helps in planning and replacing them with more appropriate steampunk-style furnishings, ensuring every element in your room contributes to the overall theme.

Designing an Empty Room in a Steampunk Style
When you are starting with an empty room, our platform's Fill Spaces feature is the ideal tool for designing a completely empty room in a steampunk style. This innovative feature allows you to visualize how different steampunk elements can transform an empty space into a captivating and thematic room. Simply upload a photo of the empty room, and the AI will suggest a variety of steampunk design elements in the selected area.

Once you have the initial design in place, you can further refine it using the Precision+ feature. This tool enables you to make specific changes to the room's design. Whether you want to adjust the placement of a vintage clock or add a unique steampunk light fixture, Precision+ allows for detailed customization, ensuring every aspect of the room aligns with your vision.

The Furniture Removal feature remains useful even in an empty room scenario. As you experiment with different design elements, you might find certain elements that don't quite fit your taste. Use Furniture Removal to eliminate these items from the visualization, making room for alternatives that better suit your steampunk aesthetic.

Wrapping up
Steampunk decor is more than just a style; it's a creative expression that blends the past and the future, the ornate and the industrial, into a unique and captivating living space. With our platform, transforming your home into a steampunk-inspired haven has never been easier or more accessible. So, start your design journey today and step into a world where history and fantasy converge to create something truly extraordinary.