You do not have enough credits! Wait 24 hours for 3 new credits or UPGRADE NOW - Our Early Bird discount will expire soon. You'll never see these low prices again!
Sign up, promote, and start earning!
Are you passionate about home design and looking for an exciting opportunity to earn money? Join the HomeDesignsAI affiliate program and become a valued partner in promoting our innovative home design solution.
Create Account

Join HomeDesignsAI affiliate program and get your unique affiliate link. All you need is a free Clickbank account.

Share & Promote

Promote HomeDesigns AI using your link. You can see your sales and track clicks on your Clickbank account.

Make Sales & Get Paid

Get a 30% commission on each sale and 30% every month for all our recurring plans. You'll get paid by-weekly by Clickbank.
How does it work?
A Simple, Secure Way to Earn!
At HomeDesigns AI, we believe in making things easy and secure for our partners. That's why we've partnered with Clickbank – a reputable affiliate platform that's very acccessible for new affiliates.
Ease of Use

This intuitive platform makes tracking your referrals, commissions, and payouts incredibly straightforward.

Reliable Tracking

 Rest assured knowing that every click, conversion, and commission is accurately tracked and reported.

Prompt Payments

No need to worry about payment delays. This system ensures that you receive your earnings on time, every time.

Trust and Transparency

HomeDesignsAI has a 5 star rating from our members that use it everyday and clients are happy.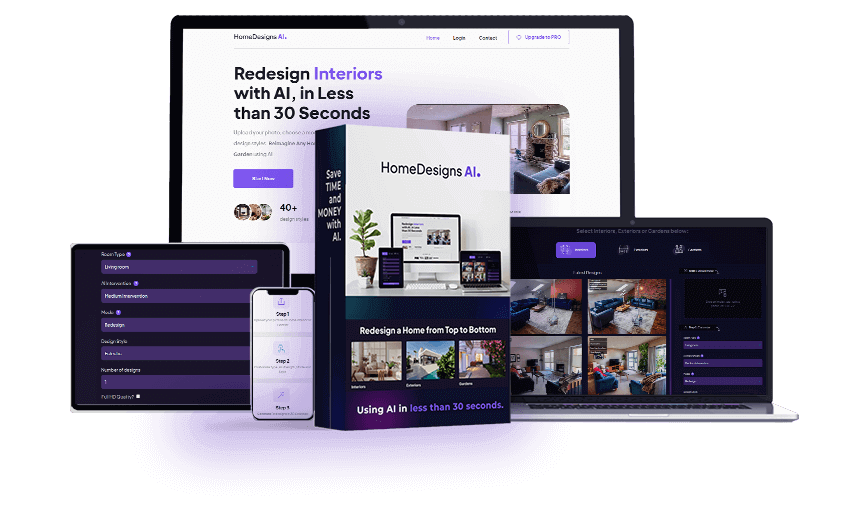 Calling All Home Design Enthusiasts and
Professionals:
Become Our Partner!
Whether you're a marketer, a professional, or a passionate user, our doors are open.
At HomeDesigns AI, we believe that anyone who loves AI tool should have the opportunity to profit from sharing them with their peers. That's why our affiliate program is open to everyone.
Professionals

Are you a digital marketer, blogger, or influencer? Leverage your audience and enhance your income by recommending HomeDesigns AI.

HomeDesigns AI Enthusiasts

Do you use our AI solution? Why not share your enthusiasm and earn in the process? Share your affiliate link on Pinterest, TikTok, Youtube and get paid. It's as easy as it gets.

Home Design Professionals

Are you an interior designer, landscaper, architect, or involved in a real estate agency? Our solutions could be a perfect fit for your audience or clients.
556872+


Designs

Our members are generating thousands of ideas every day with Artificial Intelligence.

7082+ PRO
Members

Thousands of private users and companies are saving money & time.

556872+ Design
Styles

New styles added every month. You can request any custom design style.

5


Star Rating

HomeDesignsAI has a 5 star rating from our members that use it everyday.
Calculate Your Earning Potential with HomeDesigns AI
Wondering just how much you could earn by recommending our solutions? With our interactive calculator, it's easy to get a glimpse of your potential yearly earnings as a HomeDesigns AI affiliate.
Follow these simple steps:
Adjust

Use the slider below to select the number of sales you aim to make, from 1 to 100 (or set a custom value).

Estimate

Watch as the calculator displays your potential yearly earnings based on your chosen sales number.

Plan

Visualize the impact this additional income could have on your personal or business goals.
Funnel Sales

Commission Calculator

You will get an average of $192 per year in commissions for each sale you make

Your Commission

$192 Yearly
Got Questions?

We've Got Answers!
Find answers to common questions about our Affiliate Program
At HomeDesigns AI, we believe that anyone who loves our solutions should have the opportunity to benefit from sharing them. That's why our affiliate program is open to everyone
Becoming an affiliate for HomeDesignsAI is simple and straightforward. Our affiliate program operates through Clickbank, a trusted and reputable affiliate marketing platform. To get started, follow these steps:
Visit the Clickbank website (clickbank.com) and create a new account if you don't already have one.
Once you have your Clickbank account, search for "HomeDesignsAI" in the Clickbank marketplace.
Click on the HomeDesignsAI affiliate program listing to access more information and join as an affiliate.
Follow the instructions provided by Clickbank to set up your affiliate links and start promoting HomeDesignsAI.
We offer a generous 30% commission on each sale made through your affiliate link, plus a 30% lifetime commission on any subsequent charges from your referrals.
Clickbank handles all affiliate commission payments. Once you have accumulated commissions, Clickbank will process your payments according to their payment schedule and preferred payment method, which you can specify within your Clickbank account settings. You will be paid by-weekly.
Yes, Clickbank provides a comprehensive reporting dashboard where you can track your affiliate sales, commissions earned, and other performance metrics. Simply log in to your Clickbank account and navigate to the affiliate reporting section to access detailed information about your affiliate activity.
The HomeDesignsAI affiliate program allows you to earn commission by promoting our product and generating sales through your unique affiliate links. When someone clicks on your affiliate link and makes a purchase on HomeDesignsAI, you earn a commission for that sale. Clickbank handles all the tracking, reporting, and payment processes, ensuring a seamless and reliable affiliate experience.
If you have any questions, concerns, or need assistance regarding the HomeDesignsAI affiliate program, please reach out to our dedicated affiliate support team. You can find contact information and further details in the affiliate resources provided within your Clickbank account. You can also click the Help Desk link at the bottom of this page.
Start promoting HomeDesignsAI
As a HomeDesignsAI affiliate, you will have the chance to earn generous commissions by promoting our platform to your audience. Whether you are a blogger, social media influencer, website owner, or have an engaged online community, our affiliate program offers a flexible and rewarding way to monetize your influence.
Affiliate Guide - Start Here
Press Kit - Affiliate Resources
Request Your Affiliate Link